Our Nursery
Welcome to Roundthorn Primary Academy Nursery
We have a 52 place Nursery (26 places for morning and 26 places for the afternoon) where our children are taught by qualified teachers.
Our classroom is well resourced and equipped to encourage learning, independence and adventure. We have an amazing outdoor provision which can be accessed in all weathers to make the most of our learning and our understanding of the world.
Our school has a sensory room to support our learning and we are proud to be a Therapeutic School
We are a Communication Friendly Setting
We offer the REAL project to families. This is a targeted programme for selected children which aims to support literacy development by working with them and their parents in the home setting. REAL events are also held in school every term where the parents of all children who attend the Nursery are invited to attend and join in.
Our Staff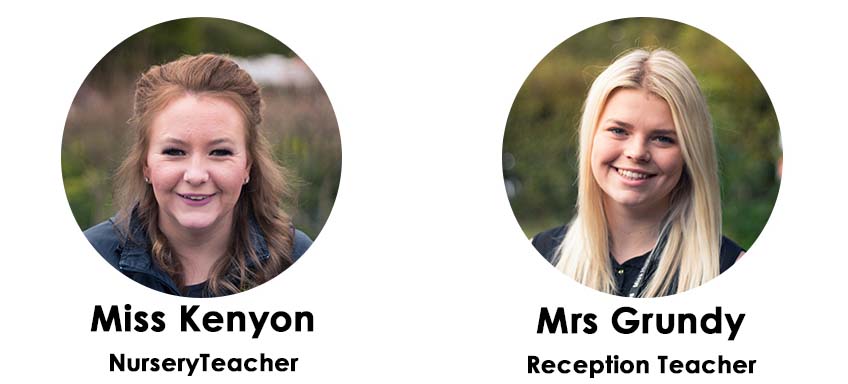 Our Nursery
//www.youtube.com/embed/Vy_N4pU9ZyY#t=0.5
Our learning
Look at the amazing things that we do in our classroom
Home learning tasks which are based on the children's experiences are sent home every week and children are given the opportunity to take a book home from our lending library to share with their family.
What our parents say
"The Nursery is doing a great job for the learning of the children with all the activities for the children to take part in every day. It also provides opportunites for the parents to join in the sessions with the children. There is a fantastic outdoor play area for the children to enjoy."
"The Nursery is doing a brilliant job and it is a fantastic place for the children. The staff are lovely and have a great bond with the children and parents. It is a very fun environment and my child has developed in so many ways. It is a good foundation for effective learning."
"The teaching staff and teaching assistants within Nursery and Reception are always so friendly and welcoming. My child really enjoys coming to school and has grown and developed both academically and socially over this school year through the amazing teaching."
Entitlements and hours
Our morning sessions run from 8.30am - 11.30am
Our afternoon sessions run from 12.15pm - 3.15pm
We offer the standard 15 hours free childcare entitlement per week. This is usually 5 sessions of 3 hours each, morning or afternoon. However we can also offer these hours over 2 1/2 days.
We also offer the 30 hours free childcare entitlement. If you do not qualify for this but would like your child to attend extra sessions, please speak to our Nursery teacher about this.

If you are interested in applying for a place for your child, please visit our school office with his/her birth certificate.
If you have any queries or would like to visit our nursery please contact us on 0161 770 8600 and we will try to arrange this for you.